Back to Business at Social Functions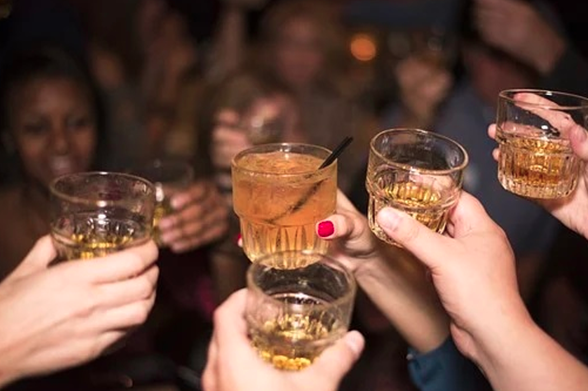 We've spent so much time inside our homes, staying to ourselves as of late that getting back out socializing with others – live and in person – can seem foreign to some of us. Being out in public at social events can become exciting and fun since it's been quite a while since we've been able to enjoy times like these. But with these events, some may have forgotten how to drink responsibly while away from the comfort of their own home. They may tend to over-indulge on the alcohol with the excitement of being together with a large group of people.
So, here's the scoop. You get invited to a social function. It may be a function for work, a volunteer association you belong with, a wedding or family birthday or anniversary or just a group of friends finally getting together. Food and alcohol are presented and the fun begins. Since food slows down the rate at which alcohol enters the bloodstream, you may not feel as "tipsy" as you normally would. Unfortunately, the amount of alcohol is still entering your bloodstream and will ultimately affect how you drive if you attempt to get behind the wheel of your vehicle.
Considering that any amount of alcohol in your body can affect your decision-making, reaction time and judgement, you or your guests would not be able to make a solid decision about where driving should occur at the end of the function. So, if you or your guests have been drinking and judgement is impaired, how can you or they make the proper decision about whether you're able to drive or not? Planning your way home before the event is always the best course of action, but what happens if you did drive there and began drinking? There are solutions.
Not Your Child Corp is available to come to your event. They will be able to provide each of the guests with a single-user breathalyzer to use prior to them leaving the function. Each single-use breathalyzer is a discrete, convenient and non-invasive way to show you, your guests or anyone else at the function if you are safe or not safe to drive. These breathalyzers use colour changing crystals within each tube. The colour produced is proportionate to the amount of alcohol consumed, with a scale of four possible readings: .00, .02, .05 and .08. Results are ready in 2 to 4 minutes. This breathalyzer send enough of a message to say driving at that time is out of the picture. So now what?
Not Your Child Corp can do more for the event than just supply breathalyzers for each of the participants of the function. They can often arrange to have a designated driver take the guest – and their vehicle – home after the event. This can be a convenient way for guests to continue to enjoy the function, while consuming alcohol. They are committed to ensure drinking and driving does not happen at that event…or any event. As they say at Not Your Child Corp; "When you feel different, you drive different. Drive Sober".
Scott Marshall has spent over 30 years promoting road safety in many jurisdictions. He has been a road safety journalist since 2005. Scott was also an on-air judge on the Discovery Network's Canada's Worst Driver during their first 3 seasons on the air. Not YourChildCorp. is proud to have Scott @Safedriver as a frequent contributor, his insights are irreplaceable.