Well, the snow is here, so I guess it's safe to say that we're officially in winter! And that means that the holidays are just around the corner.
With the rise of craft breweries in the world, beer has become so diverse in selection that it can be a wonderful gift for someone who enjoys drinking local. So with that in mind I've put together a modest gift guide of special beers and gift boxes you can get for the beer lover in your life. And if you're looking for something else to buy I've also included some Not Your Child Corp. products that are sure to make some fantastic stocking stuffers!
Gift Boxes
An incredibly fun thing about the holidays is the gift boxes that breweries frequently put out for the season. They make a handy gift for the beer lover in your life and allows them to try some beers they've never tried before!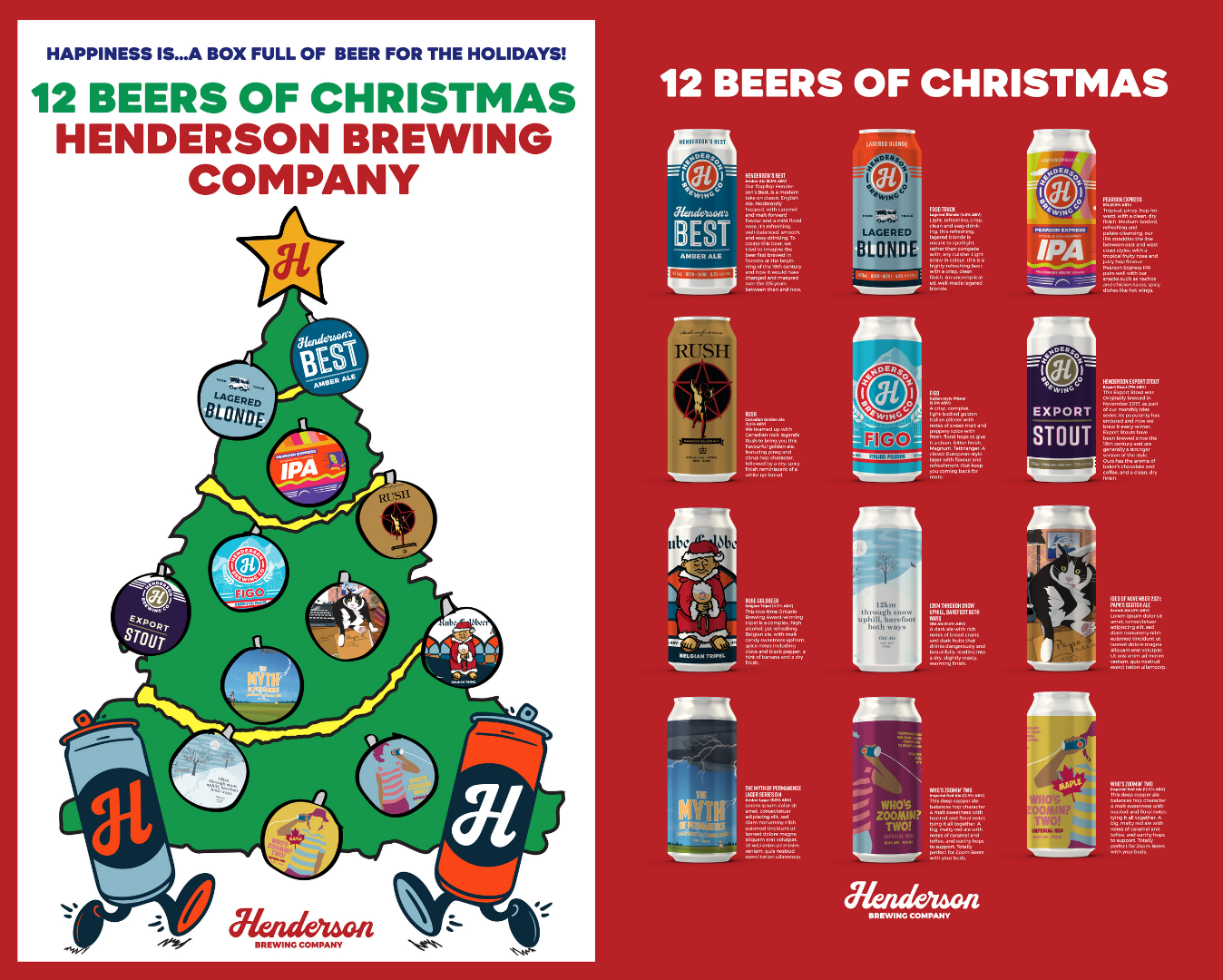 The Henderson Brewing 12 Beers of Christmas ($60)
This gift pack includes a selection of six of Henderson's regular offerings, such as the Henderson Best, Rush Golden Ale, and Pearson Express IPA as well as six special edition beers not available outside of the brewery itself like the Ides of November 2021: Papa's Scotch Ale and the hilariously named 12 Km Snow Uphill, Barefoot Both Ways Old Ale. The pack also comes with a pair of Henderson socks to work with the beer in keeping you warm!
Kichesippi Beer Co.'s Cheers to the Season 10 Pack ($54.95)
Packaged in a brightly decorated box, the Cheers to the Season pack comes with five core Kichesippi beers including the 1855 Amber Ale, Warrior Woman American Pale Ale, and the famous Heller Highwater German Helles Lager. The other five are special beers exclusive to the pack and include the Three Little Birds Export Stout, Chocolate Raspberry Sweet Stout, and Carrot Cake Spiced Brown Ale. All the cans are all individually wrapped as gifts and the package includes a Kichesippi Beer Co. toque and a jar of honey from their hives at Gees Bees Honey Farm.

Left Field Brewery Secret Santa Gift Pack ($23)
Toronto's own Left Field Brewery is a favourite for beer and baseball fans alike, so the Secret Santa Gift Pack is perfect for the beer drinking baseball lover in your life. Each pack comes with a branded navy cooler bag, a tap room glass, and a four pack of Left Field offerings that include their core line, IPA exclusives, sour & hard seltzers, and dark beers. It should be said that the dark beer pack offers two varieties of the brewery's seasonal favourite, Blackburne Imperial Stout. Considering the quality of beers Left Field makes, this pack definitely gives you the most bang for your buck!
Special Beers
Some are special editions, some are regular offerings at the brewery, but their still beers that are a cut above the rest and will make for some excellent stocking stuffers!
Tripel – Shacklands Brewing Co. ($5.50)
One of my favourite drinks of the season is the boozy Belgian beers. Expect some lovely notes of clove and nutmeg with a slight taste of banana in this award-winning seasonal sipper from Shacklands Brewing Co. and pair it with some grilled meats for a lovely dining experience.
Kintsugi I (Mega Blend) – Godspeed Brewery x West Avenue Cider House ($15)
In Japan Kintsugi is the art of mending broken pottery with powdered gold or silver, making something more beautiful than the original. This blend is an extension of that concept, blending West Avenue pressed cider juice with three of Godspeed's core beers (Ochame, Otsukaresama, and Yuzu) and aging them for three years in different chardonnay and West Avenue "Heritage Funk" barrels before ageing for an additional year in a stainless steel tank and bottle conditioning for five months. The result is something extraordinary that will certainly impress that special beer lover in your life.
2015 Vintage Kentucky Bastard – Nickel Brook Brewing Co. ($26.50)
A fun thing about beer is that certain styles that are heavy in malt and alcohol like an imperial stout can be aged, undergoing a slow change that alters the flavours into something truly beautiful. To see just how good aging can do, I really can't suggest the 2015 Vintage Kentucky Bastard enough. Initially aged in Kentucky bourbon barrels, this imperial stout is big and boozy with notes of chocolate, coffee, and vanilla. Back in 2015 I declared the original release an international contender and the bottles aging for six years has most likely brought out some of the best elements of the beer, lowering its boozy warming notes a bit. It might seem pricey for a 750ml bottle, but trust me when I say that this will be the ultimate special occasion beer for your loved one.
Not Your Child Corp. Products
We'd be remiss if we didn't include some of the fine products to be found right now in the Not Your Child Corp. store! Have someone in your life who wants to make their nights out more safe? Taking advantage of some of these incredible deals won't just be thoughtful, but could help in saving a life!
Single Use Breathalysers ($5-80)
These single-use breathalysers are perfect for those moments when you're heading out with friends for a few drinks. No batteries to mess with and no fear of breaking it, you just pop one in your bag and it's there when you need it to be. Sold in packs of 1, 5, 10, and 20, they provide fast and accurate results with easy to read crystals that change colour.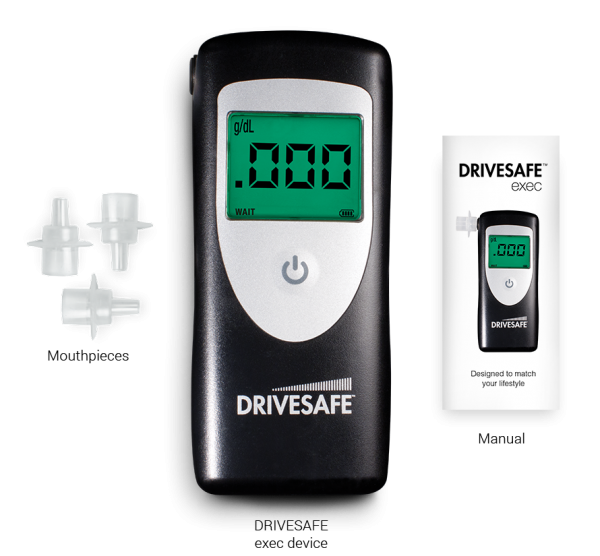 DRIVESAFE Exec Personal & Portable Breathalyser ($240 – SPECIAL SALE)
For those that want a breathalyser that can be used multiple times, this model, courtesy of Not Your Child Corp., contains an advanced sensor that is the standard for professional and law enforcement use, so you can rely on the accuracy of your results. The breathalyser includes user-friendly operation, annual calibration reminders, DOT certification, and a one year warranty.
Dräger Alcotest® 3820 ($372.62 – SPECIAL SALE!)
Portable and discreet with a sleek modern design, the Alcotest® 3820 removes the guesswork for a night out by providing fast results using precise measurement technology that reaches industry standards. This device can give readings in extreme temperatures and, with regular calibration, is designed to last for many years!
Robin LeBlanc is an award-winning drinks columnist, author, and beer judge. Since first starting her blog The Thirsty Wench in 2011, she has gone on to write for numerous publications, has co-written two editions of The Ontario Craft Beer Guide, a book detailing the many breweries of the province, and is co-host and organizer of the very successful podcast The Ontario Craft Beer Guide the Podcast, where she regularly provides news and insights into the goings-on of the Ontario and international beer world. 
You can follow her on Twitter at @thethirstywench