Getting Festive at The Aurora Craft Beer Festival!
The warm weather is finally here and we are ready to go outside! And what better way to celebrate than with a giant party that has amazing food, fantastic entertainment, and some truly world-class drinks? Enter the Community Craft Beer Festival!
The Community Craft Beer Festival is an incredibly fun series of festivals that happen around Ontario and throughout the year, with the latest one coming to Machell Park in Aurora on Father's Day Weekend (June 17-18 2022). Previously operated as the Newmarket Craft Beer Festival, this will be Aurora's first summer craft beer festival and it promises to be an excellent one, featuring loads of Ontario breweries, cideries, wineries, and spirit makers with food from local restaurants, catering companies, and food trucks that will appeal to any taste. There are also games, tournaments, workshops, and music that celebrates the great Canadian band the Tragically Hip for a proper rockin' time!
And of course Not Your Child Corp. will be there to give out free breath tests to patrons and designated drivers while also providing education on how to keep things safe all year round! And if you'd like to take a few single-use breathalyzers with you, we'll have some available for sale!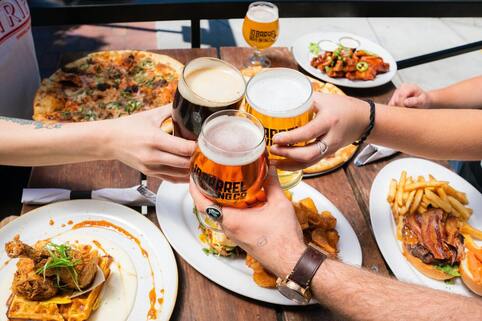 Now, I could make recommendations on what to try while there, but that would be removing the fun part about beer festivals which is the sense of exploration and discovery of trying something new. I will say though, that Red Thread Brewing Co., The Collingwood Brewery, and Clear Lake Brewing Co. all make some fantastic beers and you'd be well served to start out with trying some of their offerings.
But instead I'm going to give you some words of advice. If this is your first beer festival it might feel a little overwhelming and that's completely normal. Here are some tips to make sure that your experience is an unforgettable one:
Pace Yourself
I love festivals because there's always so much to do and try at them! The Community Craft Beer Fest in particular has some of the best breweries Ontario has to offer along with selections of beer, mead, cider, wine, and spirits! You might not even know where to begin!
So here's a piece of advice. Take a deep breath, relax, and just go with what you're feeling. You may have a completionist mindset towards the drinks available, but festivals are about enjoying yourself and having fun. If there's any breweries you missed or wanted to try, you can always come back to the festival the next day or look them up online and check them out yourself.
Additionally, always remember to drink plenty of water and get something to eat from the many amazing food vendors available at the Community Craft Beer Festival! Poutine! Wings! Burritos! It's all there for you to go with whatever you're drinking! And trust me, you'll be grateful to have the food and water to ground you!
Ask Questions
One of the best parts about beer festivals after getting to try samples is to learn about what you're drinking and who makes it! In many cases the people filling your glass will be a representative from the brewery itself and will be able to answer any question you have and even tell you a bit more about the brewery itself in case you want to visit or try them out again in the future!
Have Fun
This is the most important one. Festivals are all about having fun. So enjoy the music, talk with people about what you're both enjoying, and take it all in. In all honesty, the past two years have taught us a lot, but one of the big lessons it taught was that we should make the most of the joys that life has to offer. And I can think of nothing more joyful than a good time in the summer!
To purchase tickets to the Aurora Craft Beer Festival (which include full weekend passes and a special VIP ticket options), go here: https://www.newmarketcraftbeerfest.com/aurora-craft-beer-festival.html
Robin LeBlanc is an award-winning writer, columnist, and author with more than a decade of experience in telling stories. She has worked with artists, organizations, small businesses, and internet personalities to help inform, promote, and lift up. She lives in Toronto.