We Talk With Erin Broadfoot From Little Beasts Brewing Co.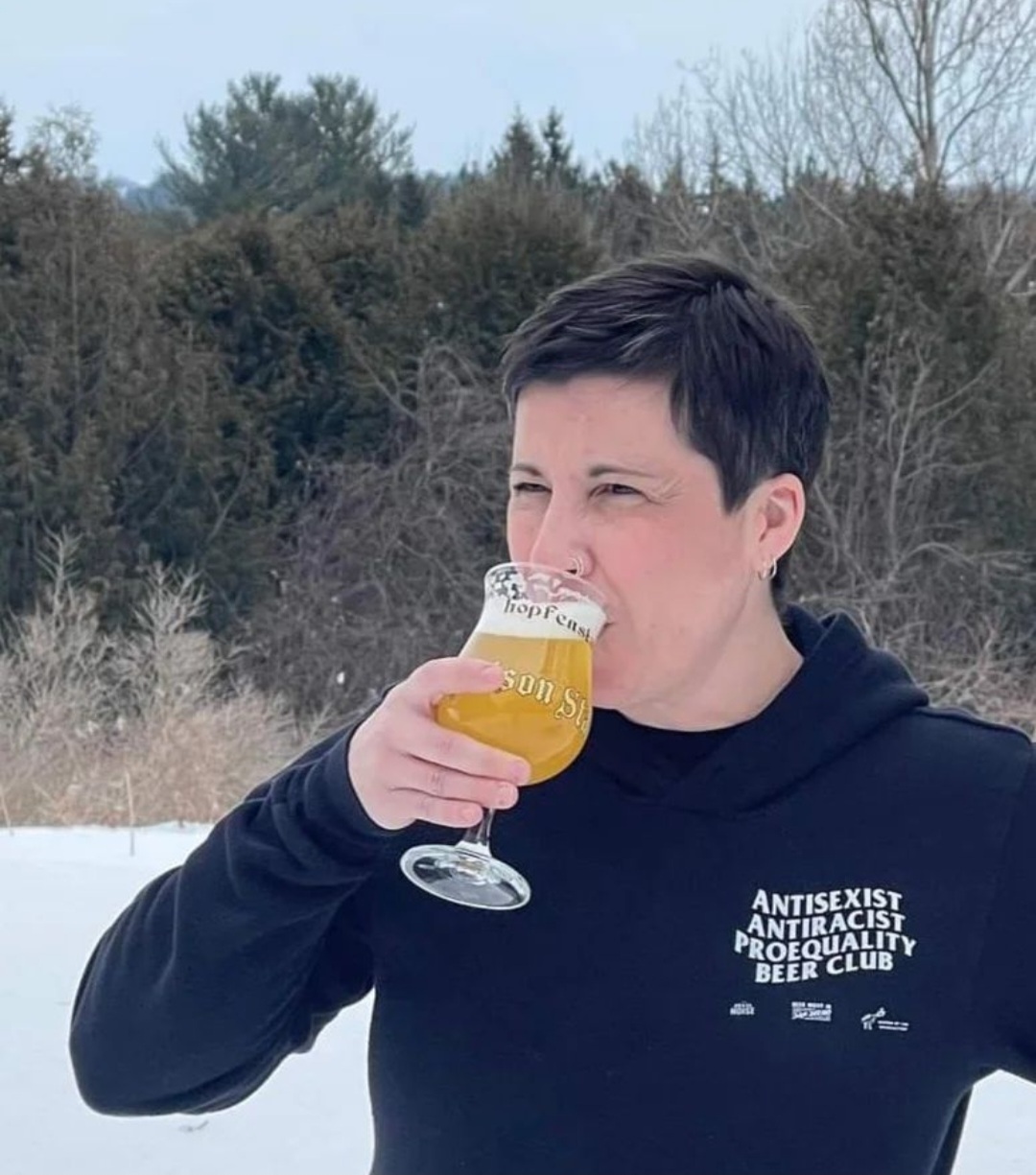 The best thing about stopping off at a place for a beer (with a Not Your Child Co. breathalyser at the ready in our pocket or bag) is getting to talk to the people who make it all the while trying to make the industry they're in a better place than when they entered it.
It's no secret that I'm a fan of Little Beasts Brewing Co. in Whitby (and not just because they proudly carry Not Your Child Co. single-use breathalysers!). In fact, when I started writing for this blog, the brewery was one of my first profiles. The reason for that, aside from making incredible beer, is that owner and brewmaster Erin Broadfoot is an individual who brings her passion towards excellent quality and social justice to everything she does. She's genuinely a wonderful person to sit down and talk with.
Erin was trained at the internationally renowned Siebel Institute. Her past life working in chemistry, naturopathic medicine, and microbiology proved to be a good fit with the brewing beer and she found herself taking part in the thriving homebrewing community, where she attended meetups, entered brewing competitions, and appeared on panels promoting the good word of beer.
Recognizing that brewing was becoming something more than a hobby, Erin began to enter the professional brewing scene, working for a number of breweries and proving herself to be a remarkable brewer with an immense amount of talent.
In 2017 Little Beasts Brewing Co. was opened and the rest, as they say, is history. For nearly five years now the brewery has brewed award-winning beers with incredibly fun and creative labels. What's more, Erin has made it a priority to be a strong, leading voice for positive change in the brewing industry. Most notably she has taken to her Instagram to repost stories of abuse and harassment in the Canadian brewing scene in order to start the conversation on making a brewery a safe space for both customers and staff.
We reached out to Erin and asked her a few questions about the problems with the industry, what customers should do to be more aware, other exciting things that both her and Little Beasts are a part of, and what beers she's currently enjoying!
1. For the past several weeks you've been reposting people's stories of abuse and harassment in the beer industry. What spurred you to take this on?
When Brienne Allan (@Ratmagnet) initially began sharing stories it was amazing watching people wake up and take notice of what was happening in our industry and in the beverage industry around us. Unfortunately though, when I tried to have conversations here in Canada I kept hearing 'we are better' and 'thankfully we don't have the problems here that they do in the US'. I knew from experience and from the stories that had been shared with me that we have huge issues here in Canada, and that we really are no better than our American neighbours. Considering that we were in the middle of the uncovering of numerous Residential School mass burial sites at the time it stunned me that people still had this false air of superiority regarding our country. I want to see change here, I want to see the beer and beverage industry make space for all marginalised communities, and I want to see the abuse end. So I launched an initiative similar to what Brienne Allan had done back in May and began sharing stories sent to me by people in the industry in Canada. My initial hope was that people would wake up and see how big the issues really are here, and that once that platform had been created and awareness made I could move forward from there to set up an ongoing safety network of sorts and affiliated charity ventures.
2. As these stories are coming out more and more, what can the public who aren't in the industry do to be a better informed customer?
First and foremost, listen and believe. I can't even begin to describe the amount of disbelief in the back end of this project (back end meaning the dms, emails and all other forms of communication that I receive). But the truth is that most stories are verified over and over and over. They are things we either already knew, or are shared with me repeatedly by various people accidentally confirming each other's stories, or sometimes stepping up to confirm and validate when they read the story. Once you have the knowledge, ask for accountability. This can be in person, by email, over social media. Ask what is being done to rectify the issues, ask to see codes of conduct and statements of intent. Don't abuse, harass or attack. Start a conversation. And if a brewery/bar/business refuses to acknowledge or do the work, spend your dollars elsewhere. Dave Lee has also created an amazing spreadsheet that is tracking accountability. It's normally linked in my instagram bio (occasionally replaced for a couple days by something else relevant).
3. This isn't the only initiative for positive change you're a part of. Can you tell us about what you're currently up to?
When I asked people to share their stories I knew I wanted to go past just airing abuse, I wanted to use the stories to fuel more change. So that all of the amazing people who stepped up and shared didn't do so in vain. I am presently working on a 4 part workshop with Queens of Craft and Jensen Williams (a women in crisis educator) that will begin in March. Four workshops that will cover trauma and self care, bystander intervention training, allyship work, and a workplace equity focused seminar aimed at management level. I am also working on building a safety network in the beer and beverage community that will help customers and those employed in the industry find safe spaces and help maintain accountability while also providing tools and other support. I'm also hoping to establish an affiliated charity that will help provide care to those who have suffered traumas in the industry. It is a lot to bite off so it's taking me a moment or two to sort it out, but it is in process. You can watch the spot as it slowly starts to come to life soon (fingers crossed!) at craftbeersafetynetwork.com. Ren Navarro has been doing a whole hell of a lot (basically on her own) for way too long. I'm here to help share that load. We'll be doing a lot together in the future I believe.
I am also keeping my instagram platform (@esbroadfoot) open to anyone who wants to share their stories from across Canada. I am happy to hold space for those who need it for as long as it is needed.
4. Are there any exciting releases coming up at Little Beasts we can look forward to?
Oh man, so many! Hopefully we've seen the end of shut downs and I can really begin working on all of the things I've been dreaming about! There will be more trappist style beers from us in the future, a solid line of grisettes and a growing number of mixed fermentations. I'll also be growing our barrel program significantly and playing with all of the bugs I've always wanted to play with. The hope is to eventually grow into our own 'house strain' mixed culture, but that will be after years of playing I imagine. We'll still have a few German Lagers that rotate, and a few IPAs (Valkyrie, Pinion and Salem's Lot) but our Belgian presence will be growing. Significantly. We are also about to up our bottle and can conditioning game, so lots of exciting things are happening right now.
5. And finally, what are you currently drinking and enjoying?
So many things! I'm always a sucker for my favourites and managed to collect a little stash of Dupont and St Feuillien over Christmas that I'm slowly sipping on (my comfort beers). There have been a few local beers, though, that I've had lately that I have really enjoyed. I had a couple cans of Sawdust City Limberlost dropped my way recently. One of my favourite local beers, everything they do is so solid. Enjoyed a can of LOUR black IPA from Farm League Brewing, old school and super solid. The last batch Intermodal by Bellwoods was also really tasty. And of course, there are always a few cans of Urquell hiding out in my fridge. Straight up easy drinking comfort.
Little Beasts Brewing Co. is located at:
2075 Forbes Street, Building B Unit 4 Whitby, Ontario L1N 9X1
Web site: www.littlebeastsbrewing.com
Twitter: @Lilbeastsbrewco
Instagram: @littlebeastsbrewco
Facebook: LittleBeastsBrewCo

Erin Broadfoot's Instagram: @esbroadfoot
Robin LeBlanc is an award-winning drinks columnist, author, and beer judge. Since first starting her blog The Thirsty Wench in 2011, she has gone on to write for numerous publications, has co-written two editions of The Ontario Craft Beer Guide, a book detailing the many breweries of the province, and is co-host and organizer of the very successful podcast The Ontario Craft Beer Guide the Podcast, where she regularly provides news and insights into the goings-on of the Ontario and international beer world. 
You can follow her on Twitter at @thethirstywench