Today We Interview Josh Hayter, President of Spearhead Brewing Co.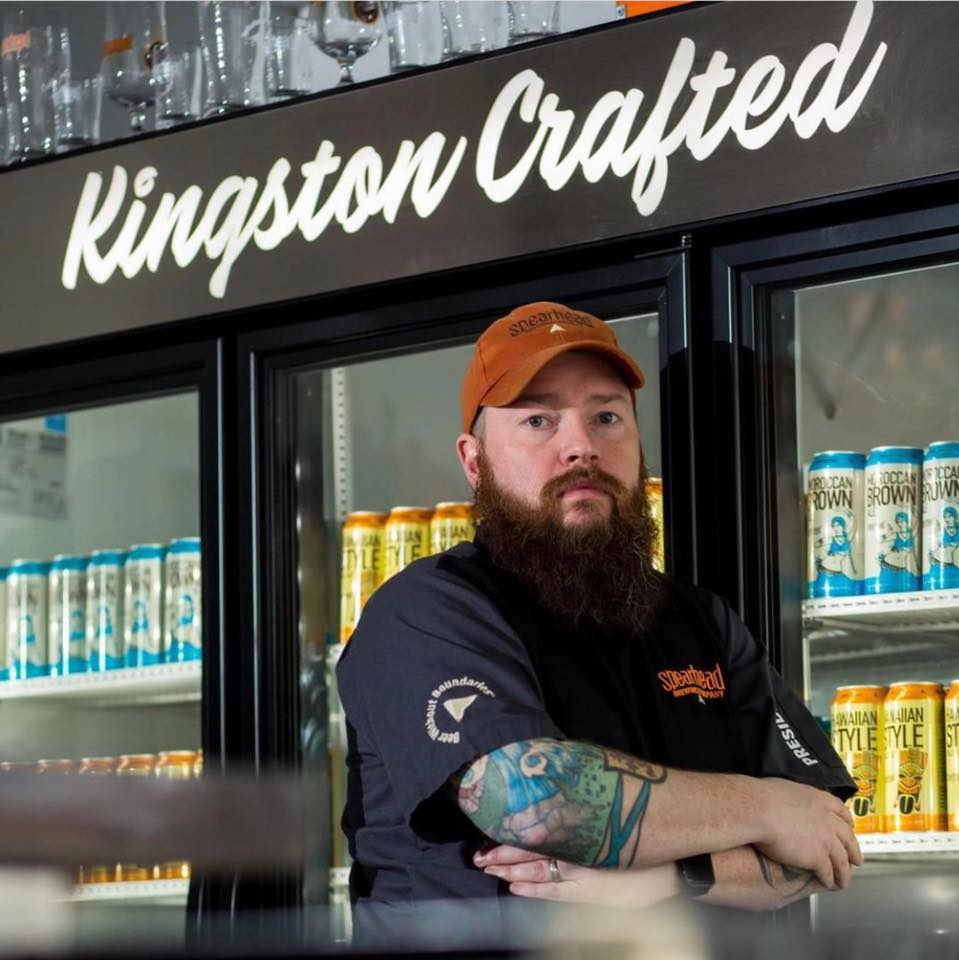 In our travels across Ontario for some good beer made by some good people, our sights always seem to head over to Kingston towards the good folks at Spearhead Brewing Co.
Now, we've talked about Spearhead before and readers will know that the brewery instills a sense of community and togetherness as well as making some damn fine beers in the process. From the moment the brewery opened its doors in 2018, they have set out to make the world a better place. The brewery has a constant rotation of collaboration brews with proceeds going to multiple causes that range from LGBTQ+ and BIPOC organizations to food banks and wetland conservation sites.
With that, along with community events and an obvious care for the safety of their customers by supporting and stocking breathalyzers from Not Your Child Corp., it's safe to say that Spearhead made good on their promise to be a socially-minded brewery.
And at the forefront of those efforts is Spearhead's President Josh Hayter, who has a keen understanding of the local impact a brewery can have on the community.
We sat down with Josh to ask him a few questions about his love of beer, his passion for lifting folks up, and what's going on at Spearhead.
1. What got you into beer?
Most people don't know this about me but there was a time in my life that I really was not all that into beer. I've always been a drinker but I used to really focus on Sprits and Wine. The issue is I'd only ever really been exposed to Macro Beer and I thought it was a cheap way to get a buzz but really nothing more in the flavour department. In 2007 my former mother-in-law gave me a book for Christmas called "Notes on a Beermat: Drinking and Why It's Necessary" by Nicholas Pashley. While it still makes him giggle when I tell the story, this book changed my life. I started going out to beer bars and learning about what real beer should taste like. I never looked back.
In 2008 I was a partner in a web development company. We had developed some blog software. To test it I created BeerSnob.ca. The BeerSnob blog allowed me to start tasting and trying different beers and writing down what I thought about them. At first it was all for fun but I really got into writing and drinking good beer. About a year before joining the Spearhead Team I became a columnist for Muskoka Life's beer section which was super fun. The Muskoka Life gig gave me access to a lot of brewers and breweries, many of them are still dear friends. I believe writing about beer and learning from the amazing breweries around Ontario gave me a very strong foundation to build on as I entered the business from the production side. As I joined Spearhead in 2015 I gave up my beloved blog and passed my Muskoka gig on to an infinitely better writer because I believed while working at a brewery writing about other people's beer was kind of a dick move. (Just for laughs here is my final post http://beersnob.ca/article/pub:556/Put-me-in-coach-Im-ready-to-Play)
2. Ever since Spearhead opened, it was important to you to be a member of the community and lift up marginalized groups. Why?
You can blame my mother for this one. Growing up our family did not have a lot of money, but we always got by. I was an only child until I was 7 (loved being the center of attention 😂😂😂) When my parents split up (I was 2 so I don't remember it) my mother moved to Maine working for the Government of Nova Scotia. By the time I was 5 she had met my now stepfather who in every measurable way is my real dad. They quickly had 3 additional children (by quickly I mean 3 kids in 3 years). From as far back as I can remember my mother always instilled in me a very simple way of life, "If you can help someone, do it." She lived this. I remember as a 10 year old kid, my mother who had a 10 year old, 2 boys under the age of 2 and an infant daughter still found the time to volunteer her ONLY free time on the weekends helping a friend of hers exercise and massage her daughter who had severe cerebral palsy. I was volun-told along to help. At the time being a 10 year old brat I was not always the most cooperative but what I did not realize is it set the tone for how I view the world. I'll never achieve the level of pure volunteerism my mother has over the years and I've made it a life mission: "If you can help someone, do it."
This attitude carries over to everyone at Spearhead. We all do our best every day to help in big or small ways sometimes to the company's financial benefit, sometimes not. Either way it makes us feel better about what we do, and what the hell we only get one shot at this. Might as well enjoy it and do some good.
3. What's one program or collaboration Spearhead has been a part of that you're particularly proud of?
This is a really hard question to answer. We have a great program helping Ducks Unlimited raise money for the environment, several programs to feed hungry people, a program to help veterans who served as peacekeepers in Cyprys go back for the 60th anniversary and an amazing program that helps the CCGSD fund Gender and Sexual Diversity education. We are proud to have the very first can featuring a real life Drag Queen in the LCBO.
4. What are some current releases that you want people to know about?
Our agenda for the fall is OUT OF HAND. First starting this month, the one and only Big Kahuna is once again gracing the shelves of the LCBO, right alongside our Collaboration with the Society of Beer Drinking Ladies, the Gingersnap Golden Ale. This month will also see the return of our award-winning Oktoberfest, October brings a new creation with our Fall Festive Ale, November hits hard with our Tiramisu Stout and for December we will be bringing back an old favorite for a month with some fun new packaging. Oh, also forgot to mention we are partnering with the Society of Beer Drinking Ladies on a holiday gift pack that includes a peppermint stout and a gingerbread porter.
We have so much coming out I keep forgetting things, last but not least we are doing a collaboration brew with our good friend Jordan St. John that will benefit St. George's Lunch Program. It's an ESB called Dragon Slayer and honestly it's one of the coolest cans we have come up with.
5. Anything exciting coming up from Spearhead?
We are always putting out new beer and trying to test the limits of craft beer. We are super excited to be partnering with the Society of Beer Drinking Ladies to produce their seasonal beers. We are grateful to be part of a movement that is helping elevate the women in our industry and show the world just how important they are.
You can find Spearhead Brewing Co. at:
675 Development Dr, Kingston, ON K7M 4W6
1 866-571-5839
Twitter: @SpearheadBeer
Instagram: @SpearheadBeer
Facebook: SpearheadBrewingCompany
Robin LeBlanc is an award-winning writer, columnist, and author with more than a decade of experience in telling stories. She has worked with artists, organizations, small businesses, and internet personalities to help inform, promote, and lift up. She lives in Toronto.