Today We Feature MERIT Brewing!
By Robin LeBlanc

Like everyone else around here I've been feeling rather stuck at home and longing to travel. And while there are, of course, dreams of going to other countries (possibly to a nice warm beach somewhere), I'd settle with a small road trip within Ontario. Specifically the city of Hamilton, which has seen a lot of revitalization lately as more people from Toronto move there. It also just happens to be one of the most interesting and booming craft beer hubs in Ontario.
And at the center of it all is MERIT Brewing, a brewery that has been a positive force for change both in the brewing industry and in the city they call home.

The story of MERIT goes back further than their 2017 launch by a few generations to when co-founder Tej Sandhu's grandparents, Chanan and Charan Sandhu, immigrated to Nanaimo, BC from Punjab, India. There they opened a furniture store called MERIT and through it went on to help the immigration of hundreds of people from their home province in India. Once they arrived in Canada the Sandhus provided housing, clothing, food, and support to help them with their new life in Canada. For Tej, who is also co-founder of popular running group RunTOBeer, naming the brewery MERIT was a way to honour the work of his grandparents and to act as a reminder of how businesses should always have a purpose and support the community.
Paired with that sense of community support is the idea to always welcome the new, be it in the form of initiatives or to the creativity found in art, music, food, and beer. This call to embrace the new and different is brought out in the brewery's iconic lightbulb branding, a nod to Hamilton's history as the first major Canadian city to have access to AC power.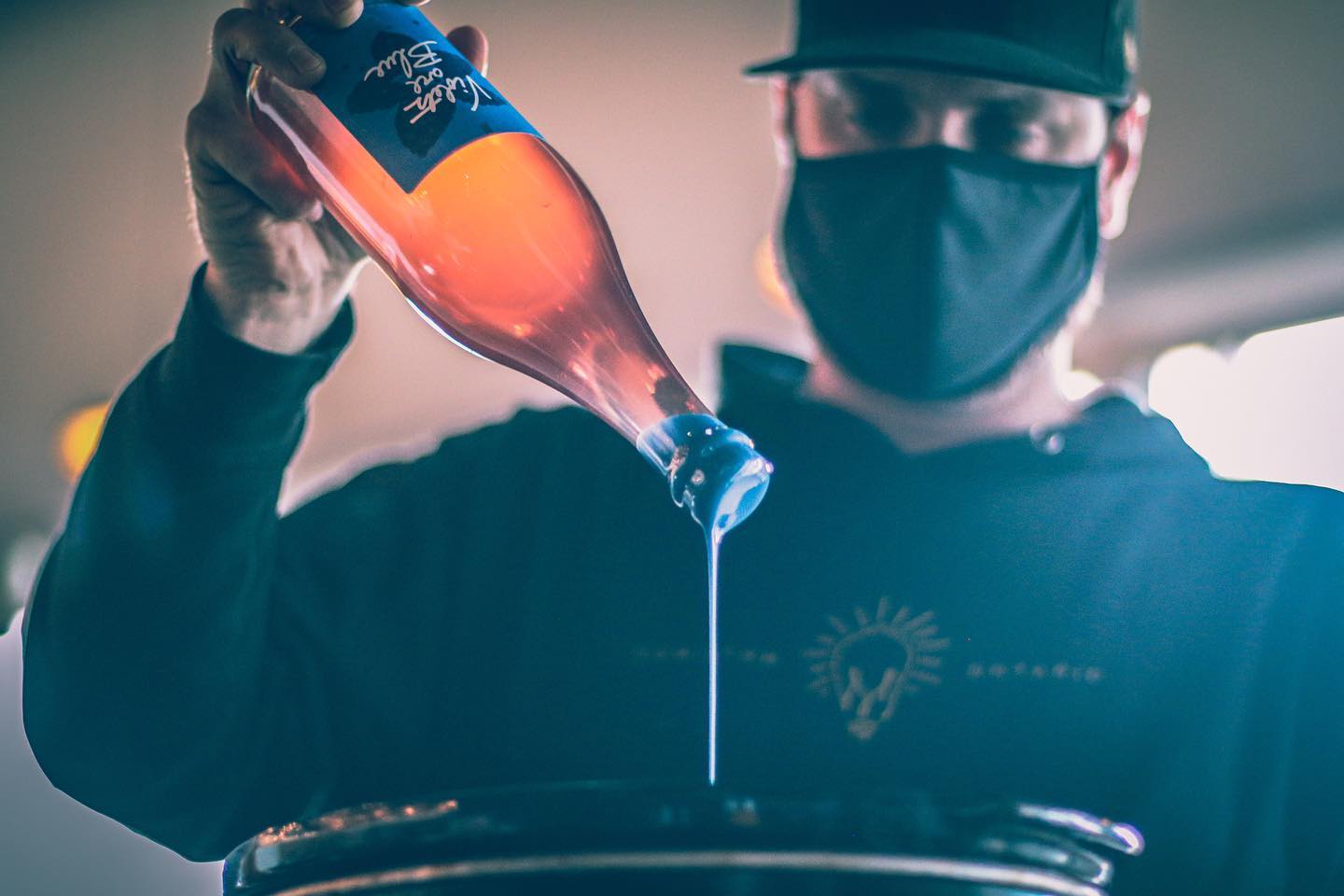 MERIT also has an incredible talent in their co-founder and brewmaster Aaron Spinney, whose name has long been associated with boundless creativity, meticulous brewing skill, and being an all around decent guy. If the ethos of MERIT is to do good work along with embracing new ideas, then MERIT's beers are the embodiment of that.
Come to think of it, all aspects of MERIT are an embodiment of their philosophy. They have maintained a commitment to WCA Hamilton, preparing meals for the women in the shelter. They've also been unabashed supporters of LGBTQ+ causes and, before the pandemic they teamed up with Ren Navarro of Beer. Diversity. to create on More Than, a Mango pale ale with proceeds benefiting the Hamilton Centre For Civic Inclusion's Black Youth Mentorship Program, which provides Black high school youth with mentorships and groups sessions to help them develop life and leadership skills and inform them about social justice, community mobilization tactics, political involvement, Black identity and history, and entrepreneurship. In addition to the proceeds, MERIT had also committed to paying for Navarro's fees to speak at one of those sessions along with planning a trip to the brewery itself. But of course the pandemic put a delay on such plans for the time being.

It's fortunate that a brewery with such a strong moral compass also happens to be one of the best breweries in Ontario. Their quality beers never fail to impress every level of beer drinker and their food, which includes excellent house-made sausages and all sorts of incredible pickled veggies, is always superb.
Obviously, the pandemic has changed some things and folks are no longer able to sit in their beautiful taproom and share some laughs over a beer, but the switch to online ordering has worked well for them and their beers are easily accessible from anywhere in the province, with rotating free direct delivery and limited free delivery on orders over $45 in Burlington, Hamilton, and Toronto. But if you want some food or growlers, I'm afraid you'll have to be a local!

There are many reasons to go visit Hamilton and their beer is one of them. And if you find yourself on the road heading that way, be sure to check out MERIT while you're there!
And as always, if you're going to have some drinks, don't forget to bring some Not Your Child Corp single use breathalyzers to stay safe!
A 6-Pack of MERIT Brewing beer to check out:
Violets Are Blue Gamay Gose 6.3% ABV – $16
Part of their hybrid series, this beer is for the wine lovers. Over 600lbs of freshly pressed Gamay skins were added to a traditional gose, was aged, and underwent bottle conditioning for four months. The Gamay brings bright and vibrant strawberry, rhubarb, and raspberry, integrating beautifully with a balanced and clean acidity of the gose.
Young Rival IPA – 6% ABV – $6.00
MERIT's flagship IPA, a juicy tropical IPA with a little bitterness.
SVP French Table Beer – 3% – $3.50
A French Table Beer that MERIT considers their Amuse Bouche. Something to start with to open a conversation, meal, or a full day of fun with. A really light, sessionable beer that contains complexities within its subtle flavours. Think low-ABV wheat beer with subtle notes of citrus & bubblegum.
Higher Love Pale Ale w. Blood Orange & Plum – 4.8% – $5.50
Just recently released, this beer was brewed to bring heaps and heaps of juiciness to a sessionable pale ale and with its flavours of ripe orange, sweet peach, and a touch of plummy tartness, it does just that. The addition of fruit brings a little weight to the beer, leading to a creamy mouthfeel. A brunch beer, a park beer, a slice of fresh fruit beer!
Dessert First Tiramisu Dessert Stout – 9.8% ABV – $9
Dessert anyone? As part of a collaboration with Barreled Souls over in Maine, this beer is a lucious, decadent, boozy dessert in a glass. Brewed with Detour espresso, vanilla and lactose, expect waves of chocolate and coffee to overwhelm the senses and perhaps prompting you to ask for seconds.
WAVES (ft. Blueberry, Raspberry & Vanilla) – 4.8% ABV – $6.50
As part of their series of fruited sour beers, this variation of WAVES is for the berry lovers. Tart raspberries dance with sweet blueberry over a vanilla backdrop, making for a delightful beer guaranteeing a "berry" good time!
MERIT Brewing can be found at:
107 James St N,
Hamilton, ON
L8R 2K6
Web site: meritbrewing.ca
Twitter: @meritbrewing
Facebook: facebook.com/meritbrewing
Instagram: @meritbrewing
Robin LeBlanc is an award-winning drinks columnist, author, and beer judge. Since first starting her blog The Thirsty Wench in 2011, she has gone on to write for numerous publications, has co-written two editions of The Ontario Craft Beer Guide, a book detailing the many breweries of the province, and is co-host and organizer of the very successful podcast The Ontario Craft Beer Guide the Podcast, where she regularly provides news and insights into the goings-on of the Ontario and international beer world. 
You can follow her on Twitter at @thethirstywench