Flat Rock is a winery that boasts a lot of firsts in Ontario: be it their "state of the art gravity-flow facility, being the first in Ontario to commit to 100% screw cap closures, or being the first in the country to close traditional method sparkling under crown cap," says owner Ed Madronich. "The drive to put the best glass of wine in front of our customers never ends."
And with that the philosophy the story of Flat Rock begins: "a dream spanning three generations," recounts Ed, "in 1954 my grandfather applied for a winery license and was denied, several years later Ed's father sold the family's local apple orchards in order to build the wine dream shared by the three gentlemen … Founded in 1999, the estate combines perfect growing and soil conditions with natural beauty and ideal topography. After uprooting, then planting 80 acres of vineyard in 2000 and 2001 Flat Rock Cellars first commercial vintage was 2003. The winery facility officially opened to the public in 2005."
But while there was a dream from grandad passed to father, how did son get into the mix? "Two different experiences," reports Ed, "one positive the other negative … first it was an amazing experience in France that led to a realization about how great wine can transform one's life. As a young impressionable student spending a summer in Europe it was logical to try wine – perhaps more for the effect than anything … Once experiencing how special wine can be in the vineyards of Burgundy and Bordeaux I knew it would remain a passion for life … [The negative] was spending my work life doing something I did not enjoy [which] pushed me into the wine business. Why not do something you love for work."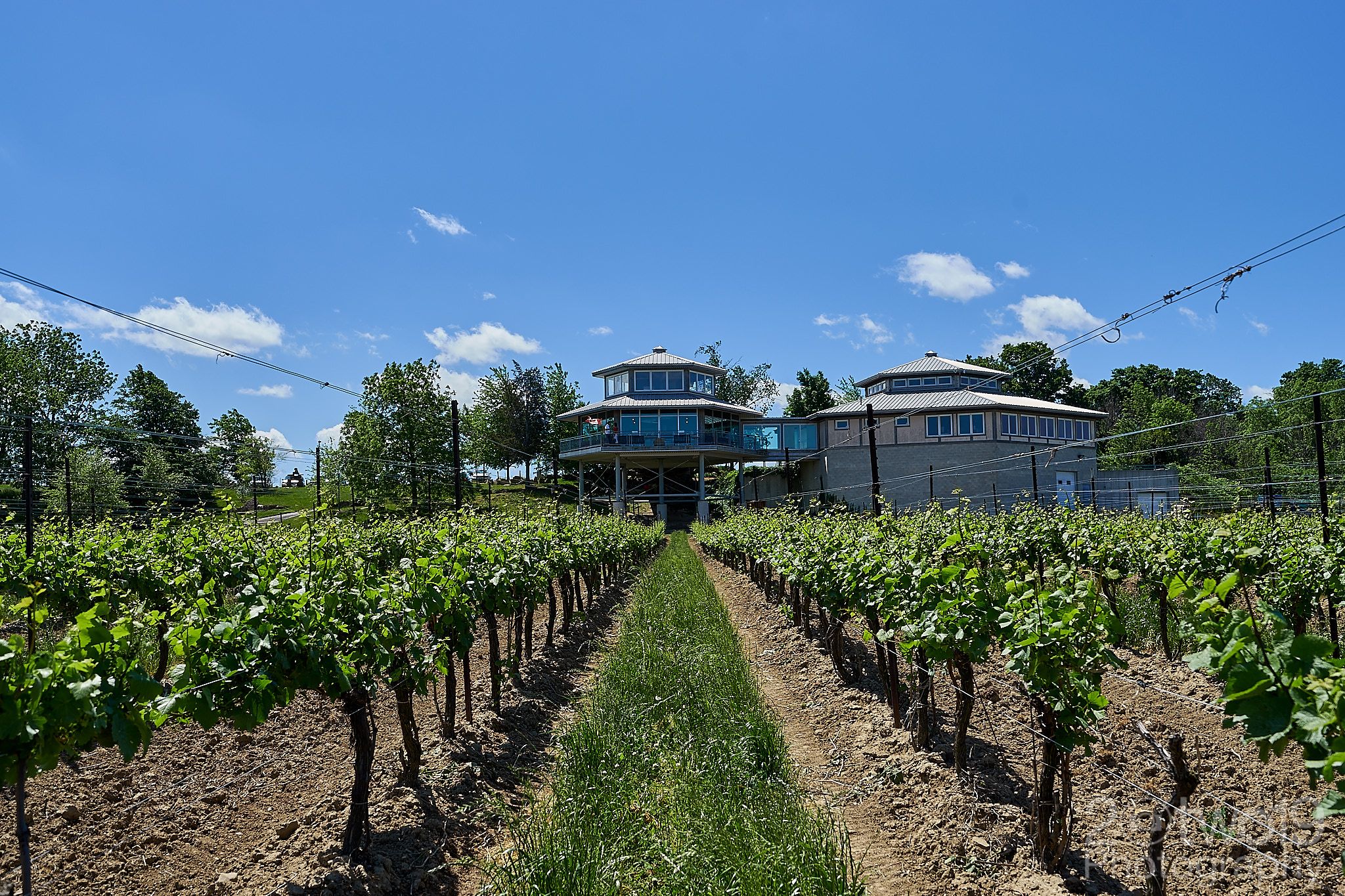 Today, Flat Rock sits on those 80 acres of with a vineyard make up of Pinot Noir (48%), Chardonnay (26%), Riesling (23%) and Gewurztraminer (2%) on the Twenty Mile Bench, land rumored to have been coveted by Le Clos Jordanne for its potential for growing Chardonnay and Pinot Noir – the folks at Flat Rock proved they were right; but got their hands on it first. "We grow these grapes because they are perfectly suited to the climate and soil type of Niagara. All early ripening varieties; meaning that we can produce balanced and concentrated wines year-after-year," says Ed about their vineyard choices.
At the helm of Flat Rock's winemaking team, these days is David Sheppard, a 40-year veteran in the Ontario wine industry. He took over four years ago after his previous winery, Coyote's Run, was sold to other interests (besides winemaking). "The move was a reunion of sorts as Dave and Ed team up for the second time in their careers, after having spent several years together on the Inniskillin wine team, where Dave trained under the tutelage of renowned Canadian wine pioneer Karl Kaiser." Helping Dave is Alison Findlay, assistant winemaker, together they "have made some of the best wines to ever come off the property … Eventually, the reins will be passed to Allison and so the future of Flat Rock wines looks very bright indeed!" Boasted Ed with pride.
When looking for a winery to model his after Ed decided Trimbach in Alsace was a perfect example of how Flat Rock Cellars should be: "They make benchmark wines for the region that are considered the best. At the same time they offer great value in their entry-level wines. "
The future of Flat Rock may be in good winemaking hands but what surrounds those hands is just as important (or maybe even more so): "Sustainability is a massive part of the future of our industry, especially when you consider the effects that climate change is already having. We are very proud and work extremely hard to be one of Ontario's 12 certified sustainable wineries … but we don't look at sustainability as simply the environment; it includes our people and our community … Which is why for the last 8 years we've partnered with Feed Ontario to work towards a hunger-free Ontario. Just as important are my staff; the people who make, distribute, sell and love Flat Rock Cellars. They are the ones who keep pushing us forward!"
Ed is a huge proponent of Ontario wine and one of its biggest cheerleaders when given the opportunity: "The overall quality coming out of Ontario, the wines are truly world-class." And with wineries like Flat Rock backing up that statement Ontario wines will continue to be.
Top-selling wines according to the winery…
Pinot Noir (both Estate and Gravity)
Twisted
Riesling
Flat Rock can be found at…
2727 Seventh Avenue
Jordan Station, ON
And on social media…
Facebook : @FlatRockCellars
Twitter : @Winemakersboots
Instagram : @flatrockcellars
Michael Pinkus is a multi-award-winning journalist as well as national and international wine judge. He is a freelance writer whose articles have appeared in numerous publication both in Canada and internationally.  He is also the sole writer for his eponymous website MichaelPinkusWineReview.com (formerly OntarioWineReview.com), and past-President of the Wine Writers' Circle of Canada (2010-2015).
You can also follow him two ways on Facebook: (Michael Pinkus