Marynissen.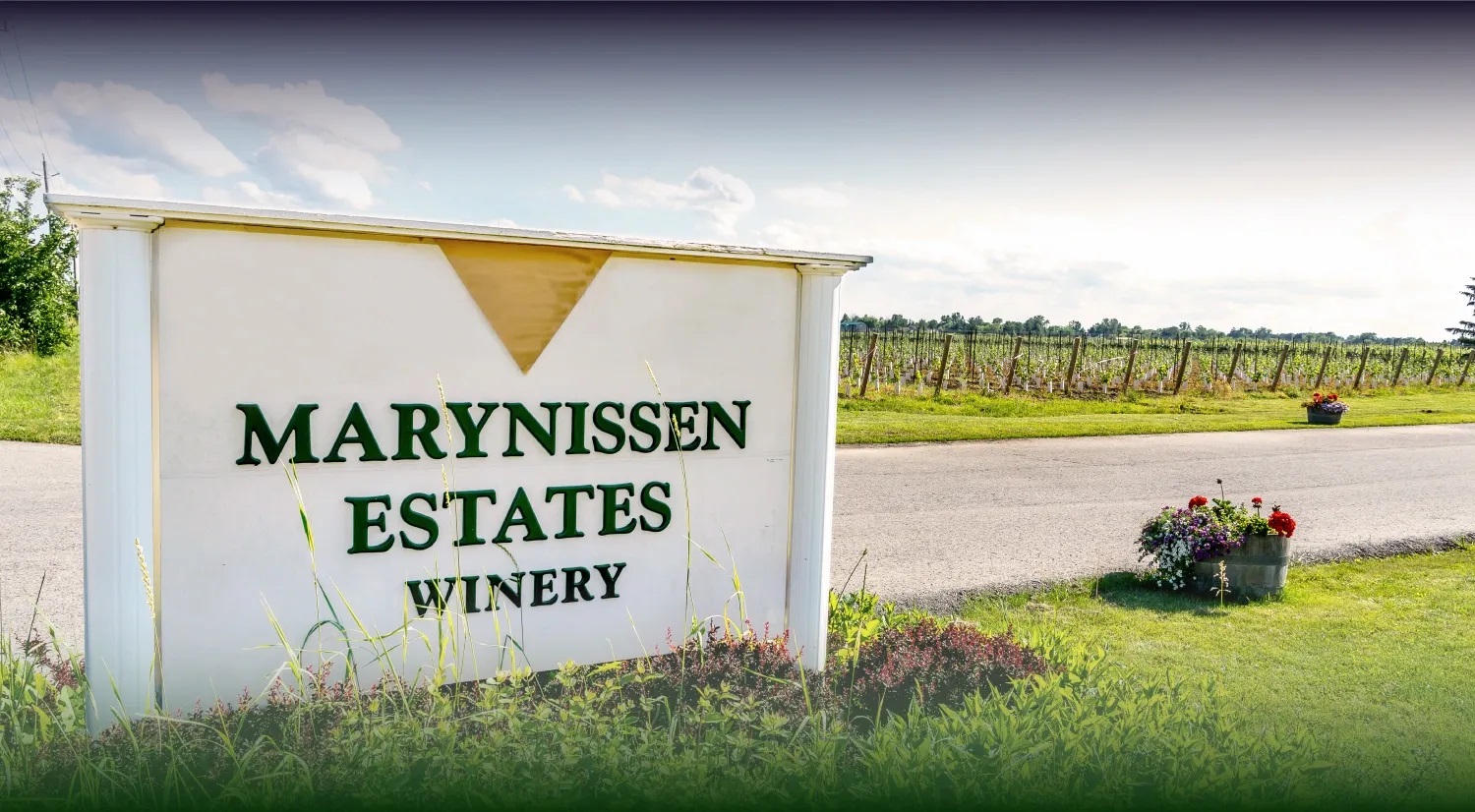 Marynissen is one of those old school names in the Ontario wine industry. The winery was founded in 1991 by viticulture pioneer John Marynissen who moved to Canada with his wife Adrianna (aka "Nanny") from the Netherlands in 1952. They quickly became landowners in Niagara, purchasing Lot 31 in 1953. "Lot 31 was home to a pig barn as well as a small orchard and juice grape vineyard. In the 1970s, there was a large movement in Niagara to pull out juice grapes and plant wine grapes. The majority of the growers in the region planted hybrids (Baco Noir, Vidal, etc.) but John, a lover of French wine, wanted to grow vitis vinifera in Niagara. In 1976 he planted Chardonnay, Riesling, Gewurztraminer, Merlot, and Gamay Noir, adding Cabernet Sauvignon in 1978, now the oldest commercial planting of Cabernet Sauvignon in Canada." John spent years growing grapes, selling his crop, making wine and entering amateur wine making competitions until he became too good to be ignored (mainly by friends and family) … Then it was time to turn professional. Their first commercial vintage was 1990 and the retail store opened in 1991.
Today, the winery sits on 23 acres that's mostly red grapes and vinifera vines: small portions of the original plantings remain (4 rows of Chardonnay, 3 rows of Gewurzt, one of Merlot and Cabernet Sauvignon) and newer plantings of Pinot Noir, Pinot Gris and Cabernet Franc in 2017, with more Cabernet Franc and Cabernet Sauvignon added in 2018.
Since Marynissen has always had a reputation for Cabernet things are not going to change anytime soon: "Cabernet Franc makes up a large portion of our red production, going into both single varietal and most of our various red blends in our multiple tiers, but Cabernet Sauvignon is always right behind it. We found our stride with Pinot Gris / Grigio and Riesling in the last few years as well; those two make up a large chunk of our white production." Says Nick Pappas, Marketing and Brand Manager.
The winemaker of record these days is Mitchell McCurdy, who got his introduction to the wine business from working at The Keg. He then took the oenology and viticulture program at Brock, graduating in 2018 – he's worked with Kacaba, Quails' Gate (BC 2015), wrote a thesis on sparkling wine and finally took over the reins of Marynissen in February 2019.
Nick Pappas had a bit of a different route into the wine world, "I was always into science as a kid, when I started at Brock university, I discovered the oenology and viticulture program and just how interesting of a program it was: biology, chemistry, a dash of biochemistry, and some biotechnology in there for good measure. "
When these two (Mitchell and Nick) are asked about the wine they gravitate towards, both personally and from the winery, Mitchell gives me the usual "I love all my children" (not the soap opera, he's talking about the wines) – "I really enjoy variety, which you might be able to tell by the sheer number of SKUs we have." But when pressed … "If the kids aren't listening, it's either the 2020 Heritage Collection Pinot Noir Rosé or the 2019 Platinum Series Merlot."

Nick, as it turns out, is a Syrah fan, mentioning the wines of Kacaba and Creekside for local and the Northern Rhone versions (France) plus a little Prosecco for good measure.
Before we look at the future of Marynissen, it's interesting to ask these young guns if they noticed a change within the industry, even with the limited amount of time they've been involved within it. Mitchell mentions recent VQA changes for allowable grapes "… with Marquette being accepted into VQA I anticipate seeing some quality wines come out of that tasty grape. The other thing I've noticed is how much the amount of sparkling wine production is increasing in the area."
The future of Marynissen should be of interest to both long-time fans, followers as well as those looking for the new in Ontario wine. "We've recently given Marynissen Estates a bit of a revamp." Nick informs us. "We still want to be producing big, dry and delicious red wines that the winery has garnered a reputation for, but we've also branched out in our Heritage Collection to include new and interesting styles of wine, for us. Charmat sparkling wine made from arrested fermentations, barrel fermented Pinot Noir rosé or bringing back classic blends that will make Marynissen devotees excited like Nanny's Blend. We'll still be producing quality for the right price in our white label series, and the big hitters in our Platinum Series as well." Says Mitchell and Nick in unison. They also believe that "the movement towards local consumption and the quality of wine that Niagara keeps producing is going to have a positive effect on Ontarians acceptance of high quality wine made here in Ontario."
It would seem that after a number of years in the wilderness trying to re-find their identity (after a number of missteps after John's passing and the sale of the winery) Marynissen is in good hands once again with a very bright future.
The top wines according to the winery …
Lokaal Red (Dutch spelling of "local")
Cabernet Franc
Pinot Grigio
Heritage Collection Cabernet Sauvignon
Marynissen can be found at…
1208 Concession 1 Road
Niagara-on-the-Lake, Ontario
And on social media …
Facebook: Marynissen Estates Winery
Instagram: @MarynissenEstates
Twitter: @Marynissen
Michael Pinkus is a multi-award-winning journalist as well as national and international wine judge. He is a freelance writer whose articles have appeared in numerous publication both in Canada and internationally.  He is also the sole writer for his eponymous website MichaelPinkusWineReview.com (formerly OntarioWineReview.com), and past-President of the Wine Writers' Circle of Canada (2010-2015).
You can also follow him two ways on Facebook: (Michael Pinkus