Today We Feature New Ontario Brewing Co.
While writing for the Ontario Craft Beer Guide in the fall of 2015, I visited the breweries of Northern Ontario. New Ontario Brewing Co., located all the way up in North Bay, was the first one I visited and to say that I was excited about it is an understatement. The brewery had only been open for a month or so, but the brewery's president and brewmaster Mike Harrison was already brewing up a storm with some beer that was already impressing the locals and showing folks from the city that Northern Ontario was a destination for craft beer.
They've come a long way since then, but the brewery's history goes way further back than the opening in 2015. In fact, the original New Ontario Brewing Co. was built in North Bay in 1907, lasting only eight years before being destroyed by a fire. Frank Schaller of Chicago was the brewmaster and Charles Blyth was the bookkeeper. Although the brewery was relatively short-lived, visits to the city's dump on Monk Street could occasionally yield an old bottle from that little bit of Ontario history.
That tie to history was important in the founding of the brewery. Harrison, a retired Captain in the Canadian Armed Forces, had found a new home in North Bay and establishing a connection on that level showed New Ontario's commitment to making the brewery a community hub with a fierce love of local. Not just pretty words, New Ontario would go on to support local charities, events, and businesses while being something of an ambassador to the north, breaking down the unfair misconceptions that folks in Toronto may have had about a place that far up.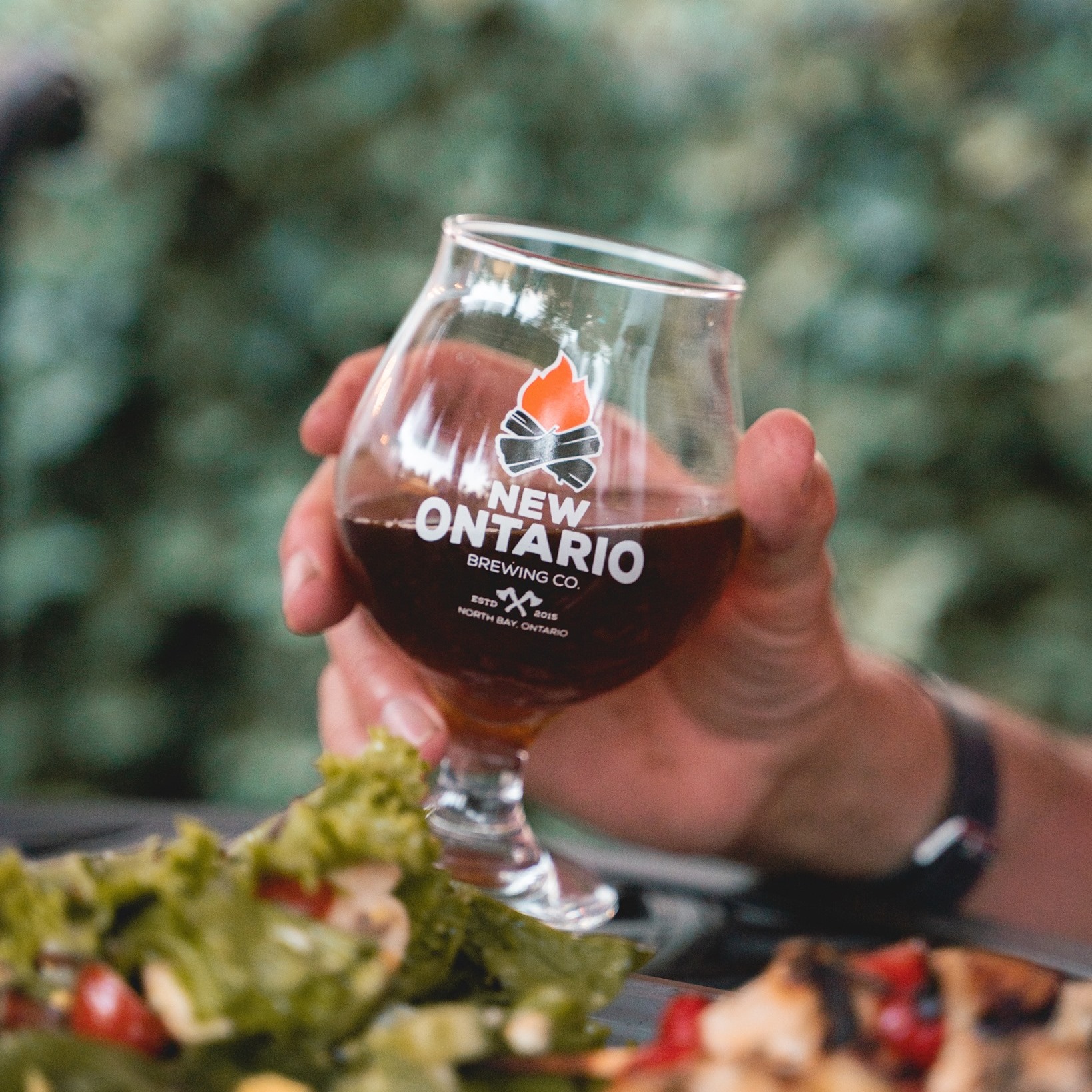 While being known as a Northern Ontario favourite, New Ontario was also a brewery that saw incredible growth. Within their first year they had already expanded production. By the start of 2020, not even five years into their existence, the little brewery on Cassels Street was already feeling a little too small and arrangements had been made to move to a facility ten times the size on Seymour Street in order to increase production for LCBO, grocery stores, and bars beyond North Bay.
Moving to the location was nearly a year in the making, with some changes being made along the way thanks to the pandemic. Harrison, who had previously gotten a certificate in distilling back in 2018, shifted the focus of the brewery a bit to help in the fight against COVID. By the summer of 2020, New Ontario was given $294,000 from the Ontario Together Fund to invest in the retooling and purchase of equipment to produce PureNorth hand sanitizer. It was just one in so many ways that the brewery stepped up to help the community when it was in need.
By September 2020 New Ontario celebrated the official opening of their new location with a safe, spaced out event. Instead of the usual cutting of the ribbon, Harrison marked the opening by a ceremonial cutting of a birch tree with a chainsaw.
Continuing on with their ongoing success, before the year was out a deal was struck for New Ontario to take over production of the beers of the South River-based Highlander Brewing, ensuring that the beers would be still brewed in Northern Ontario. Around this time, Brian Wilson, formally of Highlander, became the second brewmaster at New Ontario.
2021 has continued to be good for the folks at New Ontario. As things opened up the brewery has been able to put on concerts, quiz nights, and community events while also working with charities to fundraise. The beers have undergone a rebranding featuring a loveable bear mascot on each can, and Harrison continues to pave the way towards creativity and innovation of his excellent quality beers. There are even plans for a spirits division afoot!
Fancy a trip up to the beautiful and scenic Northern Ontario to get in the #LetsLoveCanada spirit and try some amazing local beer? Well head on up to New Ontario Brewing soon! And don't forget to pack some Not Your Child Corp. breathalyzers!
A 6-Pack of Beers to Try at New Ontario Brewing Co.
Bear Runner Blonde (4.5% ABV)
One of the OG beers from the brewery's launch, expect an easy-going beer with a light biscuit sweetness and a nice hop bite.
Frisky Pete's English Pale Ale (5.5% ABV)
Named in honour of the chipmunk that lived underneath the original location, caramel notes make this beer a comforting one, with a subtle earthy hop character towards the end.
Jaromir Lagr Dark Czech Lager (5% ABV)
Arriving just in time for fall, this dark lager has notes of dark cherry, chocolate, toffee, and a touch of smoke with a slight biscuit flavour. This will keep the light autumn breeze at bay.
Big & Juicy IPA (6.2%)
An IPA that is effectively a battle of the coasts with west coast bittering hops and new world aromatic varieties, the name of this beer explains it all. Stone fruit, tangerine, peaches and white grapes.
Trap Liner Belgian Tripel (9.5% ABV)
Want something a little on the strong side? This beer will do it for you. Aromas of banana, honey, and light floral notes make way into the taste with a beautiful Belgian candi swirl and a warming note from the alcohol.
Tree Topper Red Ale (5.1% ABV)
Floral and citrus notes blend with the caramel and toasted bready notes of this award-winning sipper.
New Ontario Brewing Co. can be found at:
1401 Seymour St, North Bay, ON P1B 8G4
(705) 707-1659
Twitter: @NewOntarioBrew
Instagram: @NewOntarioBrewing
Facebook: facebook.com/NewOntarioBrewing
Robin LeBlanc is an award-winning drinks columnist, author, and beer judge. Since first starting her blog The Thirsty Wench in 2011, she has gone on to write for numerous publications, has co-written two editions of The Ontario Craft Beer Guide, a book detailing the many breweries of the province, and is co-host and organizer of the very successful podcast The Ontario Craft Beer Guide the Podcast, where she regularly provides news and insights into the goings-on of the Ontario and international beer world. 
You can follow her on Twitter at @thethirstywench