Today We Feature Wellington Brewery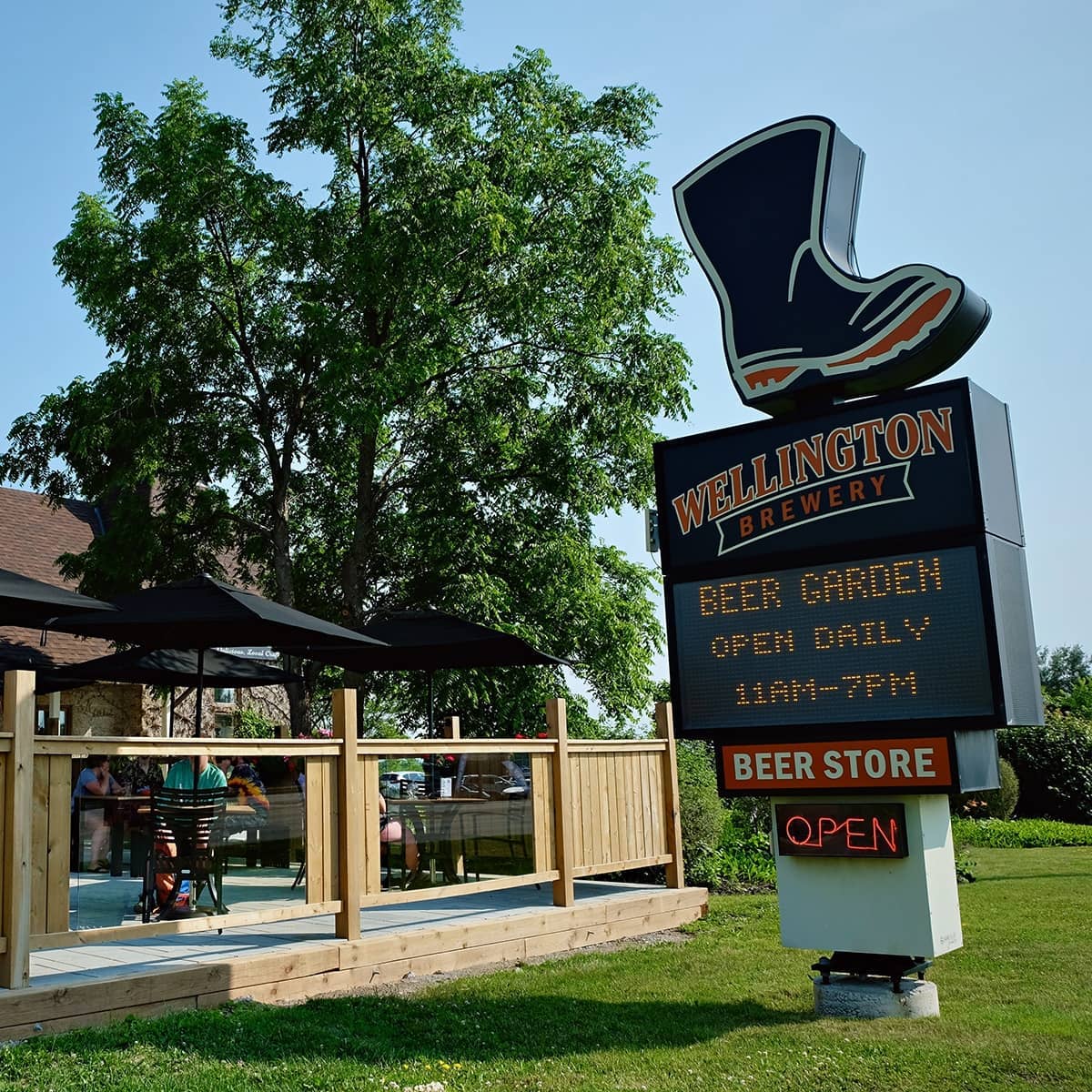 The area around Kitchener, Waterloo, Cambridge, and Guelph can often feel like its own microcosm at times, a universe all on its own whose craft beer scene grew and thrived without the interference of Toronto hipsters. This is a good thing as it shows that breweries can effectively cater to their own community and can be a whole destination unto themselves worthy of an unforgettable visit (just don't forget to pack your Not Your Child Co. breathalysers to keep things safe!).
But Guelph's Wellington Brewery sticks out in that it's a beloved institution loved by beer drinkers from all over the province. In part this is due to their role as Canada's oldest independently-owned microbrewery, but what makes them loved is their ongoing pursuit to craft incredible, often inventive beers while working hard to be a positive force for change both in the industry and the world.
Wellington was founded in 1985 by Phil Gosling as part of the first wave of microbreweries launched in the province. With a portrait of the 1st Duke of Wellington as their branding, the brewery set itself apart as one that would brew exclusively English-style beers and aimed to match the flavours they were known for, going so far as to purchase their original brew house and equipment from England and being one of the first modern breweries to produce traditional cask-conditioned beers in North America. Fun fact, original beers such as the County Brown Ale, Special Pale Ale, and Arkell Best Bitter remain as part of the core lineup today.
In the year 2000 the brewery changed hands as employees Michael Stirrup and Doug Dawkings purchased Wellington from Gosling, who was looking to retire. A few years later the old English-style "Try a Welly On" ad campaign was launched featuring the iconic Wellington boot. The boot itself wouldn't be the official logo of the brewery until 2011, when they retired the Duke of Wellington.
The following years saw many changes for Wellington as they kept in pace with the times. A canning line was installed in 2007 to introduce the tall boy to the LCBO, Michael Stirrup retired and Dawkins ran the brewery with Brent Davies, a former employee with a background in sales, and the 25th anniversary in 2010 saw the launch of the Welly One-Off series, which was a series of rotating one-off specialty beers to showcase the diversity of brewing talent they have. The brewery itself saw significant expansion as they began to brew 24/7, seeing tank capacity grow in 2011, 2013, and a more massive expansion in 2015 as Wellington hit 30 years in business. The new equipment not only allowed cut time while increasing the amount of beer made, but also went a long way in reducing the brewery's environmental impact. There was an unexpected sad note as Doug Dawkins passed away unexpectedly in 2016, but the brewery banded together and continue to honour his memory by brewing the best beer they can.
It makes sense that a brewery that has been around for so long has a significant history behind it. I should note as well that Wellington's beers have been a constant in the LCBO shelves and one of their classic recipes, the Imperial Russian Stout, was the intro to bigger, boozier beer for many Ontarians including myself.
But you don't get to be a brewery as long as Wellington has by doing the same thing for nearly 40 years and with that Wellington has gone above and beyond to keep with the times by brewing fantastic beverages that are inventive enough to bring new drinkers in and consistent enough to be a constant favourite. The Helles Lager and Upside IPA, for instance, became fast favourites among beer drinkers. Even outside the realm of alcohol their hopped carbonated waters, featuring different hop varieties, are a thing of absolute beauty that are in fact better than most non-alcoholic beers.
But more than their extensive brewing talent, Wellington is a stalwart of the community and frequently supports, kicks off, and works with initiatives to help a number of causes that support women, LGBTQ+, and BIPOC communities and more. One such event being launched on April 23rd is Queen of Craft, an annual series now in its ninth year that celebrates women in and out of the industry while raising money for Guelph-Wellington Women-In-Crisis.
Another notable element of Wellington that makes them stand out is their constant support of artists. From their coaster art series and beer labels to posters for their events, Wellington has commissioned some of the best and the brightest of the local art scene.
In summary Wellington Brewery is well worth the visit, not just because of their exquisite beers served with delicious food at their taproom/beer garden, but because their beers are steeped in the history of the Canadian brewery scene while also being an indication of where it is heading. They are a perfect symbol of the past, present, and future along with being proudly and unapologetically local.
A 6-Pack of Beers to Try at Wellington Brewery
Helles Lager (4.5% ABV)
This is the perfect go-to end of a rough workday beer. Crisp, smooth, and featuring just a little noble hop character paired with a light sweetness.
Upside IPA (6.8% ABV)
The brewery's first widely available and year-long IPA, which was launched in 2017. Brewed in the New England IPA style, the beer is an explosion of juicy grapefruit notes along with notes of peach, mango, and melon and a slight pine bitterness towards the end.
Arkell Best Bitter (4% ABV)
One of the OG recipes that has remained on the core list for good reason. A well-balanced English bitter with earthy, floral hop notes and a medium caramel body with a touch of biscuit. While it's light in alcohol, it's a proper pint of bitter that will leave you feeling grounded.
Boot Lite (3.3% ABV)
At only 137 calories a tall boy, this is a light lager that doesn't skimp on the quality. Very mild malt sweetness and light bitterness can be found in this crisp light beer that would be perfect post-workout.
Queen of Craft IPA (6.1% ABV)
With beautiful label art featuring local artist Trisha Abe, this IPA is the beer made alongside for the Queen of Craft event. The beer is a bright explosion of juicy citrus, with mandarin orange and grapefruit as the stars of the show. Additionally, 50 cents from each can goes to support Guelph-Wellington Women-In-Crisis.
Sparkling Hop Water (0% ABV)
Now hear me out, while this isn't a beer, this series of drinks deserve special recognition as they use different varieties of hops to highlight the flavors each one brings. They currently have sparkling waters with Cascade, Chinook, and Vista varieties and I strongly urge you to pick them up. You may just find your favourite new non-alcoholic drink.
You can find Wellington Brewery at:
950 Woodlawn Rd W, Guelph, ON N1K 1G2
Phone: (519) 837-2337 – Toll-Free: (800)-576-3853
Robin LeBlanc is an award-winning drinks columnist, author, and beer judge. Since first starting her blog The Thirsty Wench in 2011, she has gone on to write for numerous publications, has co-written two editions of The Ontario Craft Beer Guide, a book detailing the many breweries of the province, and is co-host and organizer of the very successful podcast The Ontario Craft Beer Guide the Podcast, where she regularly provides news and insights into the goings-on of the Ontario and international beer world. 
You can follow her on Twitter at @thethirstywench