Henry of Pelham
What can one say about Henry of Pelham that has not been said before? Truly a story of Canadian ingenuity and stick-to-itiveness. Their crowning achievement has been to turn a lowly hybrid grape into their own cottage industry and elevated it to be the grape people talk about, especially when they refer to Henry of Pelham, and when they say it they mean Henry of Pelham. But let's start back at the beginning.
"We bought the land in 1982, vines in the ground by 1984 and wine by 1988. My dad was from the area and thought it would be a fun next stage of life project for us to do as a family." That's how Daniel Speck, one of the three brothers that run Henry of Pelham today, describes their beginnings. "My brothers and I grew up in [the wine industry] by shovel planting our first vines. We were city kids from Toronto, transplanted weekends and summers into Niagara." The brothers are Paul, Daniel and Matt each have their own respective job within the winery hierarchy. But each with an equal voice as to what goes on.
Starting in 1984 and selling wine since 88 means that Henry a Pelham has seen plenty of changes within the industry. On that point, what sticks out most to Daniel are the "rise of the premium and well-financed startups" a big difference from the "boot-strappers like us."
When talking about what Henry Pelham is proud of and what sells, one would be remiss if you did not talk about Baco Noir. "A hybrid red wine grape variety produced by Francois Baco, a cross of Vitus Vinifera (Folle Blanche), a French wine grape, and an unknown variety of Vitis Riparia (indigenous to North America)." according to Wikipedia.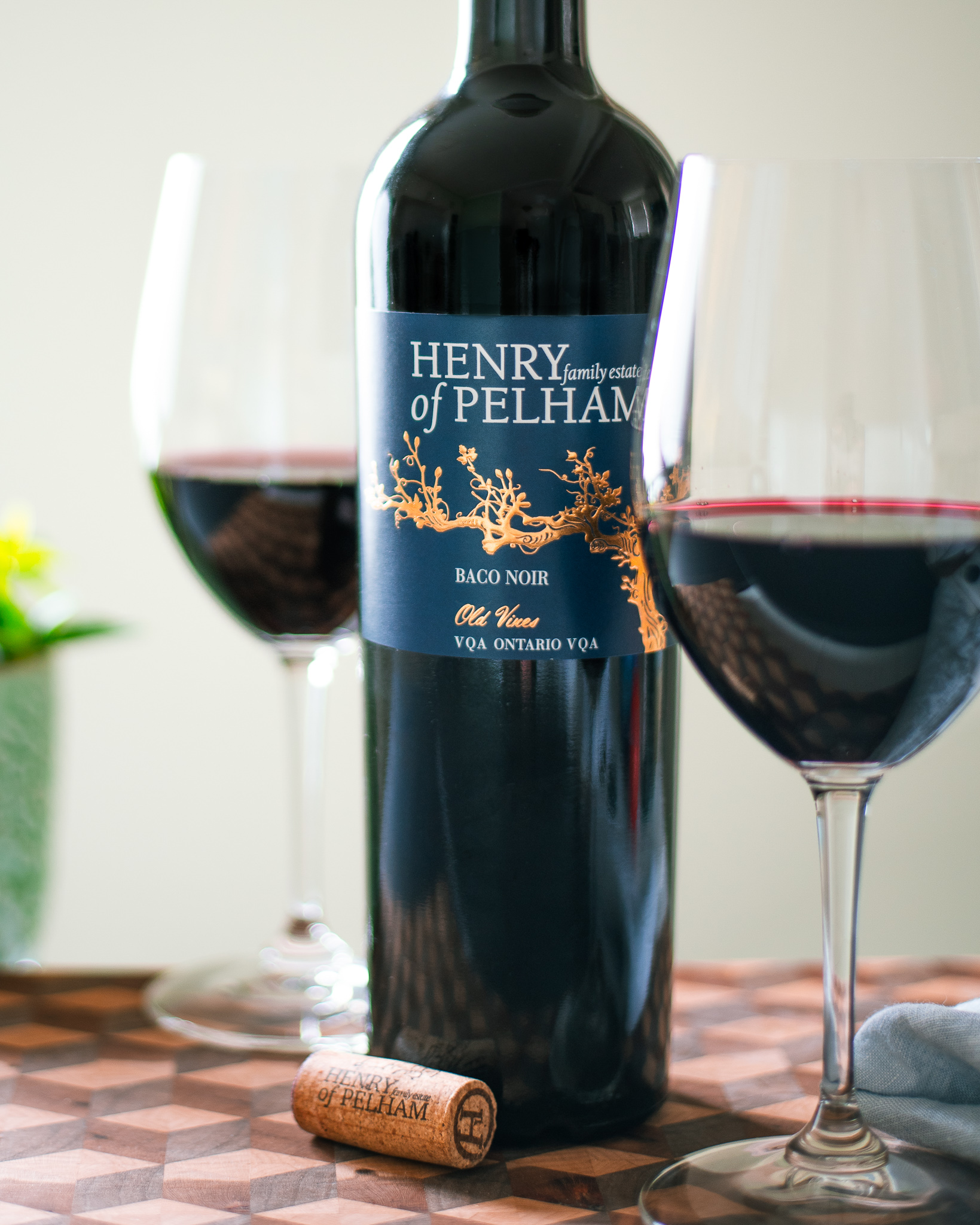 Baco has been a cash cow grape in Ontario for many years, because it can be over-cropped and made into very generic wines. But Henry of Pelham went a different route and treated it like a real grape variety, keeping crops low, thus turning the lowly Baco into a wine that has found its way around the world with the name Henry of Pelham and blazoned on the label. According to this writer, the Henry of Pelham is the only Baco worth drinking in the province; and according to Andre Proulx, another writer who focuses in Ontario wine: "Henry of Pelham is the only winery that consistently makes drinkable Baco Noir, regardless of vintage."
It's why when talking about the top wines made, and sold, at Henry of Pelham, it's hard to avoid Baco on the list: Baco Noir and Old Vines Baco Noir top the list followed by Pinot Grigio and Cuvee Catherine: Brut Rose, which brings to mind another specialty of the house: Sparkling wine. The Cuvee Catherine line, both Brut and Rosé have been a staple for Canadian wine drinkers looking for quality bubbles since it first appeared on shelves. It's a non-vintage, traditional method sparkling that rivals some of more expensive versions of the style from anywhere in the world.
Henry Pelham also makes both red and white still wines. Their vineyard makeup is 60/40 red to white, their 300 acres break down into roughly 1/3 Baco Noir, 1/3 Pinot Noir, Gamay, Cabernet Franc, Merlot and Cabernet Sauvignon (in descending order); while the whites are Riesling, Chardonnay and Pinot Gris – making up the other 1/3. Which all just happened to be the wines the winery says they specialize in the only ones not listed would be their Cabernet/ Merlot (Meritage) blend.
While talking with Daniel, the subject of favorite wines comes up and for international wines he's a fan of Ridge's Geyserville Zinfandel, while domestically he loves his family's own Speck Family Reserve Chardonnay. Hidden Bench is a local vineyard that crosses his lips where kudos are concerned and CVNE in Rioja also gets a tip of the cap "100 plus years later this winery really delivers."
Finally, a little tip of the cap should also go to the man behind the wines, as Lawrence Buhler has now taken the reins of Henry of Pelham, a veteran of Canadian wine, Lawrence has worked in Niagara, British Columbia, the Lake Erie North Shore and he's now found his way back where he started: Niagara.
The truly impressive part about Henry of Pelham is how many iconic wines they have created and continue to make, be it under their own name or any of their offshoots, like Speck Brothers, Sibling Rivalry or Family Tree. Keep your eyes peeled for their next endeavor, because these brothers never stop innovating or reinventing themselves.
Images credited to Beth Bierema
Michael Pinkus is a multi-award-winning journalist as well as national and international wine judge. He is a freelance writer whose articles have appeared in numerous publication both in Canada and internationally.  He is also the sole writer for his eponymous website MichaelPinkusWineReview.com (formerly OntarioWineReview.com), and past-President of the Wine Writers' Circle of Canada (2010-2015).
You can also follow him two ways on Facebook: (Michael Pinkus